So there I was, back in my almost favourite city of Dhaka, by invitation of the Dhaka LitFest! I've had a long involvement with Bangladesh and lived and worked in Dhaka over several decades. According to those international polls of most liveable cities, Dhaka comes about bottom. Its traffic from hell, ramshackle infrastructure and multifarious types of big city pollution give it an awesomely bad reputation. But I love the place for its vibrancy, its bustling, in-your-face street life and the fierce commitment of its citizens to arts and culture in every form. The annual LitFest is rapidly becoming a "must" on the international literary scene, especially for writers wanting to engage with global issues and talk across the divides of nation and region.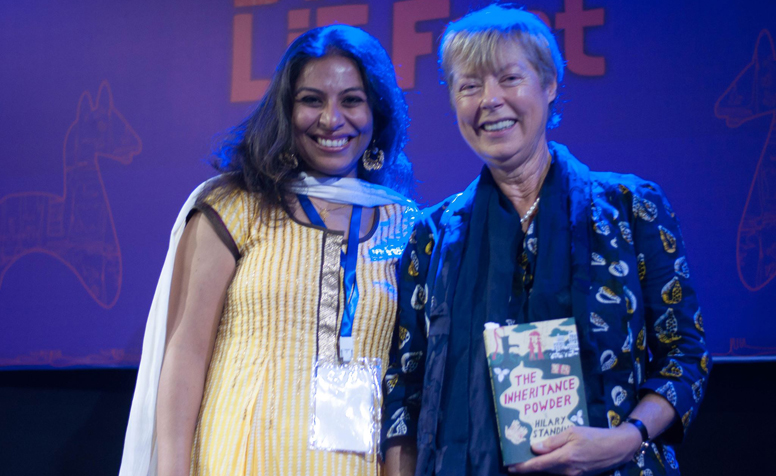 I was there for the launch of the Bangladesh edition of my novel, The Inheritance Powder, which is based on the mass arsenic poisoning of millions of rural Bangladeshis by an international aid programme of tubewell construction that went disastrously wrong. First published in the UK by RedDoor Publishing, I wanted to make it more widely available to a Bangladesh audience. University Press Limited (UPL), in Dhaka, took up the challenge and I was one of their four authors launching at the 2016 LitFest.
The first shock was the police escort from the airport. Bangladesh has been having its share of attacks by extremists. Writers and publishers have been targeted. Over 250 writers from Bangladesh and around the world attended and the organisers left nothing to chance. The security was absolute – police escorts throughout, a major police presence everywhere, minders for all of us. I am used to Dhaka, know my way around, have never felt unsafe there. It was surreal to be under such levels of protection and upsetting to know this was necessary for the LitFest to go ahead and attract people to attend. At the same time, it was curiously reassuring. The government stepped up and the state performed its essential function of protecting this precious space for freedom of expression. That is no mean thing.
And the event was a visual and intellectual delight. It was held in the spacious grounds of the Bangla Academy. There were several different performance venues and many multi-coloured bookstalls and food stands. The weather was sunny and warm. Over the three days, 26,000 people visited and chose between 100 sessions on literature, politics, performance arts and current affairs. They thronged the bookstalls. Entry was free – kudos to the organisers and local sponsors for making it available to ordinary folks. But choosing was agony – the session on "Brexit Blues" clashed with the session on "Death of Literature." How could I not be at both? My own session called "Poisoned Wells" clashed with an old friend's session on the Mystique of Muslin, resulting in mutual friends having to hop between the two.
I appreciated the democracy of the LitFest organisation. Everyone got an hour for their session, regardless of whether they were a neophyte novelist like me or an international star. My own session was superbly moderated by another first time novelist, Antara Ganguli, whose carefully chosen questions opened out the discussion to issues of writing as an "outsider" and itsassociated ambiguities of status, class and gender. The audience was engaged and lively.
Of course, the headline act was V.S Naipaul. The auditorium was crammed full for his appearance and hundreds more watched on a screen on the main lawn. It was bittersweet. His body and mind are now frail, but encouraged by his wife, he gave us little gems of insight into his writing life and just how difficult and anxiety-creating it had always been.
I found the mix of sessions on literature and global politics really stimulating. In the wake of Trump and Brexit, and in the context of much global conflict and instability, literature and the arts are lifelines that reflect on our world and give it back to us framed in new and challenging ways.The diversity of speakers and views and the creative engagement with the state of the world created a huge collective buzz of ideas and argument. It was an important reminder of the power and transgressive force of the written and spoken word.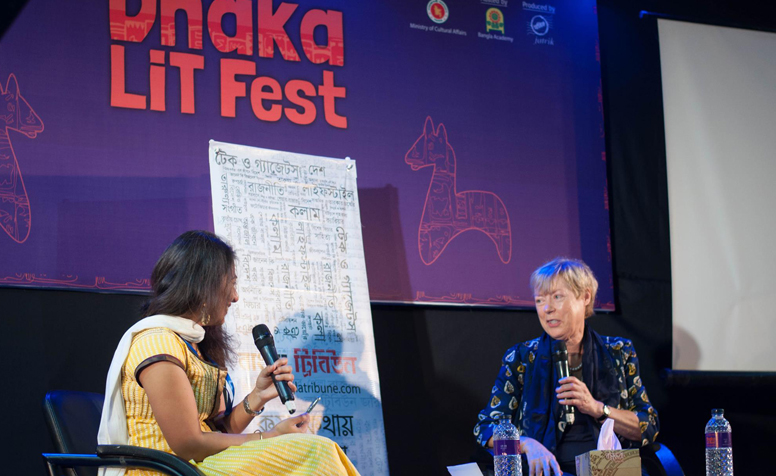 I met journalists, translators, poets, fiction and non-fiction writers from many countries and made new friends that I will keep for the future. It was also a wonderful chance to meet my future readers as I lingered for short periods at UPL's bookstall and signed copies of my novel. I wanted to slow down time, magically extend the number of days, stay in that creative, life-affirming space for just a while longer before the final police escort arrived at the hotel to deliver me back to the airport, with my suitcase full of books and my brain full of words and images.